JMES is an Open Access Journal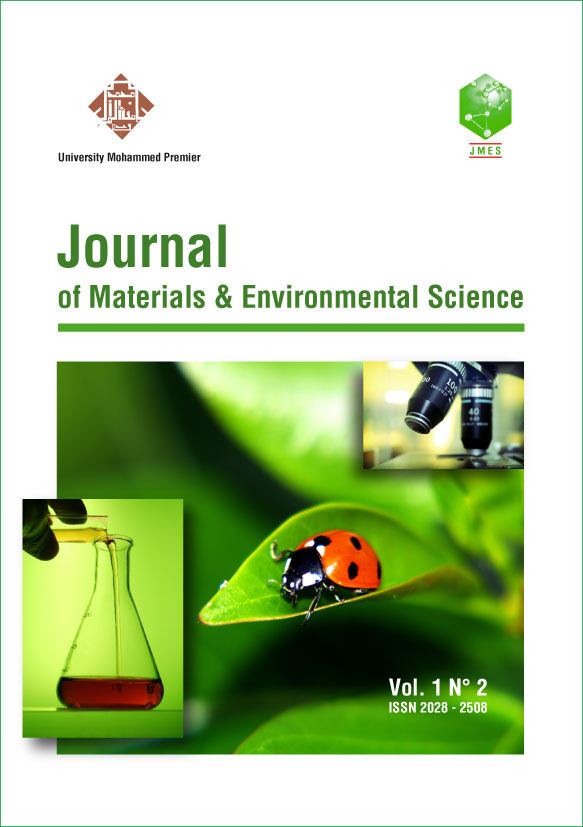 Journal of Materials and Environmental Science (ISSN: 2028-2508) is a monthly peer-reviewed Journal.
JMES publishes original papers, brief communications, reviews and letters related to every aspect of theory and practice of Material chemistry, Environment Science and Analytical Chemistry, as well as articles in which topics on history, science education etc ....
Manuscript should be typed simple spaced on Microsoft Word according to the Attached New Word-2018 document + Copyright + highlights + cover letter to the Editor stating that paper is not submitted to any other Journal + Emails of all co-authors, adressed to : jmesxxxx@gmail.com.
Scopus Decision Jan 29th, 2018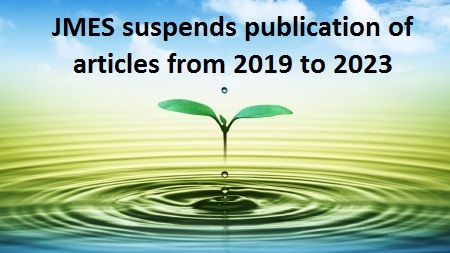 Suprised by the position of SCOPUS after publication of two Issues in 2018 and added on scopus, the third Issue was also added on this respectuous database "SCOPUS".
Scopus proceeds to remove papers in last weeks ... Authors should ask directly : re-evaluation@scopus.com or nlinfo@elsevier.com

After acceptation, Proofs should be adressed from / to : b1.hammouti@ump.ac.ma
Starting 2017, JMES publishes only in English language,
JMES is publishing free of charge excellent research papers, studies and reviews (publication gratuite et non payante). All papers published by JMES are free of charge
JMES is published by the University of Mohammed Premier Oujda in partenarship with the Association CEMADES : Centre Marocain du developpement et des Sciences (Moroccan Center od Development and Science).

Journal of Materials and Environmental Science currently has a reject rate of 21% in 2016

Dear Colleagues, Editors will take a rest from July 12 to August 27, Thank You for your Cooperation and Understanding,
If plagiarism is detected more than 35% during the peer review process, the submission may be rejected

JMES is indexed and abstracted by:
SciFinder,
Open J-Gate,
DOAJ,
University of Cambridge,
Scholar Google,
Production scientifique des pays du Maghreb (Algerie, Maroc et Tunisie) entre 1996 et 2009 utilisant la base de donnee Scopus
2nd Int. Conf. Mate. Environ. Sci. [ICMES2018], 26-28 April 2018 http://www.mocedes.org/icmes2018
9ème Rencontre Nationale d'Electrochimie RNE'09 18-19 Mai 2017, Saidia Morocco http://www.mocedes.org/rne09
1st Int. Conf. Mater. Environ. Sci., 1–3 Dec. 2016, Oujda Morocco http://www.mocedes.org/icmes2016
Documents
Events