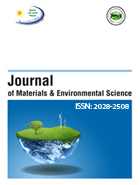 Editor at PITTCON'2010
Prof. Belkheir HAMMOUTI, the Editor of JMES and Dr. Rachid TOUZANI Multydisciplinary Faculty of Nador (UMP Oujda) and members of the ACS, were invited as part of a delegation from North Africa and Middle East (Pittcon - ACS Delegation MENA) by the American Society Chemistry www.acs.org to attend an international conference on chemical analysis and spectroscopic applications from February 28 to March 5, 2010 in Orlando, Florida [the 2010 Pittsburgh Conference on Analytical Chemistry & Applied Spectroscopy (PITTCON)] www.pittcon.org. During this meeting, more than 10,000 participants, Teachers Researchers have had several fruitful contacts with the organizers of the ACS, lecturers and heads of companies.
Drs. Hammouti and Touzani want to express their gratitude to Dr. Nancy Kackson, the President Elect of the ACS and Drs. Richard Kottenstette, Bradley Miller and Lourdes Echegoyen for the warm welcome and gracious hospitality. These days will remain etched in our memory.